Contract number
I0-0022-0481-0481-02
Type of project
Research Programmes/Infrastructural Centres
Type of project
Network of research and infrastructural centres University of Ljubljana (MRIC UL)
Duration
01.01.2022 - 31.12.2027

Infrastructural Centre for Molecular Interactions Analysis is located on the Department of Biology, Biotehnical Faculty, University of Ljubljana, Slovenia. Centre offers a wide range of analytical approaches based on surface plasmon resonance for academic investigators, pharmaceutical industry, food industry and ecological studies. Our field of interest are protein-lipid and protein-protein interactions.
Head
Matej Butala
Večna pot 111, 1000 Ljubljana
+386 1 320 33 97
Contact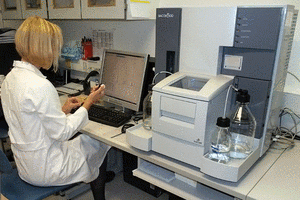 Equipment
Biacore T100/T200 Sensitivity Enhanced (GE Healthcare)
Biacore X (GE Healthcare)
Stopped flow SX-20 (Applied Photophysics)
References
https://www.zotero.org/groups/2910564/ic_center/library
Publications
Berden Zrimec M, Barlič-Maganja D. Biološki detekcijski sistemi v veterini in mikrobiologiji. 2007; 1:87-94.
Anderluh G. Merjenje medmolekularnih interakcij. Delo Znanost. 2004; :21.