Chair of Biochemistry and Food Chemistry
Chair of Biochemistry and Food Chemistry was originally founded in 1963 but it is known by its present name from 2009. The Chair is located in the Department of Food Science and Technology, at the Biotechnical Faculty and brings together experts from different fields of foodstuff research. We carry out research and teaching activities that cover topics such as:
· Compounds from natural sources
· Physical and biophysical properties
· Food structure and function
· Mechanisms of interactions
· Encapsulation and increased stability
· Biochemistry and molecular biology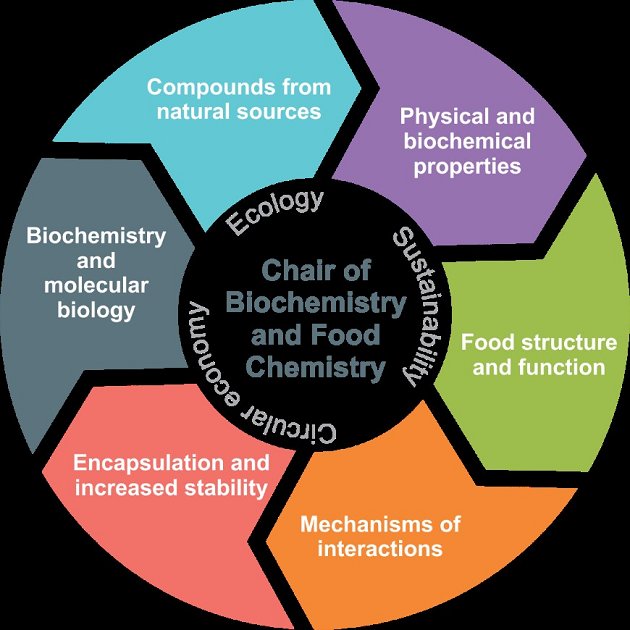 Main research activities
Compounds from natural sources
We have experiences in extracting several phenolic compounds from different plant materials (e.g. olive leaves, hops, pomegranate peel and grape seeds, leftover from pressing oil – so called oilcake, invasive knotweed etc.). Most of the phenolic compounds are bound to cell walls so plant material is often pre-treated (e.g. liquid nitrogen, high temperature, enzymes, fermentation) to enhance yield and antioxidant capacity of the obtained extract. We have developed and standardized methodology for the assessment of antioxidant efficiency in complex food matrices. To study bioavailability of a bioactive compound we are using in vitro models of the gastrointestinal tract that mimic metabolic processes to study degradation of food or pharmaceutical product.
Physical and biophysical properties
We are using in-house or third-party advanced analytical techniques (DSC, TGA, spectroscopy, particle size measurements, dielectric measurements, FTIR, rheology, AFM, SEM, etc.) to determine physical and biophysical properties of food systems. These measurements can help to understand food structure, oxidation stability, viscous and texture properties to prepare more appealing food products for health-oriented consumers.
Food structure and function
To answer consumers' demands for healthier, better-for-you products we are collaborating with different companies (Medex d.o.o., Žito d.o.o., Valens Int. d.o.o., etc.) in formulating new products, and reformulating existing ones. Replacement of hard fats with polyunsaturated fats in vegetable oils with formation of so-called oleogels, adding natural compounds to increase antioxidant capacity, replacement of gluten with combination of hydrocolloids (HPMC, xanthan gum and starch), increasing the content of beta-glucans in milling semi-products and application of such material for the preparation of food products are some of the activities we are pursuing in order to improve food processing and food quality. It has to be emphasized that changing the recipe of a food product is not as straightforward as it seems. It can result in shorter shelf life, loss of flexibility, impaired texture, and problems during manufacturing and reduction of product appearance and sensory quality.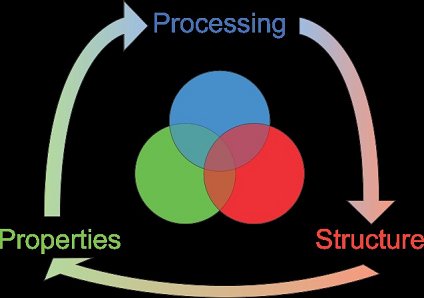 Mechanisms of interactions
We have extensive experiences in investigating and understanding interactions between different food components that play important role in designing, manufacturing, transporting and consuming of food products. We are using Differential Scanning Calorimetry and Rheology to investigate how interactions between food components affect the quality of end products.
To understand the mode of action of bioactive compounds (polyphenols) with biological molecules (proteins, lipids, polysaccharides) and their bioavailability, adsorption and transport phenomenon on molecular level we are using the combination of spectroscopic, calorimetric and molecular biology techniques.
Encapsulation and increased stability
We are experienced in encapsulation of bioactive compounds into different carrier materials that protect the core compounds and enhances their application in diverse food matrices. We have successfully encapsulated various polyphenols, vitamins and complex mixtures of bioactive compounds. Recently we have successfully encapsulated epigallocatechin gallate into liposomes and into alginate and chitosan microparticles reinforced with liposomes. The encapsulation systems enabled protection of epigallocatechin gallate in solutions with acidic and alkaline pH and in fruit nectar. In search of efficient natural protection for bioactive compounds we are experimenting with archaeal lipids that form liposomes (archaeosomes) that are stable at high temperature, low or high pH, resist even in the presence of phospholipases, bile salts and serum and also in mixtures with conventional diester lipids.
Biochemistry and molecular biology
We have extensive knowledge in expression, isolation and characterization of different proteins (from hyperthermophilic archaea). In 2015 overexpression of recombinant pernisine by E. coli and Streptomyces rimosus was achieved by codon optimization and the yields have opened new opportunities for industrial purposes. Pernisine is active in the pH from 5 to 10 and temperature from 70 °C to 100 °C. Patented knowledge for producing higher amounts of the recombinant pernisine will allow us to develop new applications (protein hydrolyzate; degradation of protein aggregates, cleaning formulas).
Research equipment
Nano Spray Dryer (B-90 HP, Büchi)
Encapsulator (B-395 PRO, Büchi)
High pressure homogenizer (LABOR PILOT 2000/4, IKA)
Freeze dryer (Alpha 1-2 LD plus, Christ)
Rotavapor (R-210, Büchi)
Sonicator (Vicra-Cell, Sonics)
Device for measuring particle size, Z-potential and rheology (ZetaSizer Nano ZSP, Malvern)
Differential scanning calorimeter (N-DSC III, Calorimetry Sciences Corp.)
Differential scanning calorimeter (DSC 2500, TA Instruments)
Differential scanning calorimeter (nano DSC, TA Instruments)
Circular Dichroism Spectrophotometer (J-1500, JASCO)
FT-IT Spectrometer (Frontier, Perkin Elmer)
Fast protein liquid chromatography (NGC CS, Bio-Rad)
High-pressure liquid chromatograph DAD/RID/FLD (1260 Infinity, Agilent Technologies, CIPKeBIP)
Fluorescence spectrophotometer (VARIAN ECLIPSE)
UV-Vis spectrophotometer (Cary 100 Bio, Varian)
Multifunctional device for measuring electrical properties (Agilent)
Rancimat 892 (Metrohm)
Densitometer DMA 5000 (Anton Paar)
System for O2 permeability measurements with Fibox 3 sensor (Presens)
3D printer Foodini 2.0 (Natural machines)
Main teaching activities
Undergraduate courses
· Biochemistry
· Food Chemistry
· Chemistry with Biochemistry
· Food Analytical Chemistry
· Chemical Engineering II
· Unit Operations in the Food Industry
· Chemistry
· Fundamentals of Food Processing
Postgraduate courses
· Biochemistry II
· Physico-chemical Methods in Food Science
· Structural Properties of Food
· Analytical Biotechnology
· Novel Foods
Academic and Research staff
Prof. Helena Abramovič
Dr. Miha Bahun
Dr. Ajda Bleiweis
Prof. Blaž Cigić
Dr. Luka Kranjc
Dr. Jaka Levanič
Assist. Prof. Ilja Gasan Osojnik Črnivec
Prof. Nataša Poklar Ulrih
Assoc. Prof. Lea Pogačnik
Assist. Prof. Iztok Prislan
Dr. Mihaela Skrt
Assist. Prof. Nataša Šegatin
Support staff
Mirjana Jeremić, Specialist Consultant
Mateja Vidmar, Specialist Consultant
Graduate students
Špela Gruden
Jan Kejžar
Polona Megušar
Nikola Stamenković
Luka Šturm
Employees