Department:
Department of Food Science and Technology
Type of project
Research Programmes/Infrastructural Centres
Type of project
Research Programme
Duration
01.01.2018 - 31.12.2023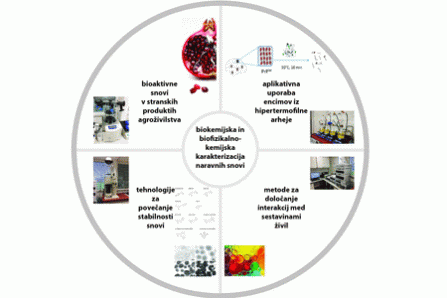 The food industry is confronted with new challenges, such as the demand for functional foods with health-promoting effects. Phenolic compounds are a group of plant secondary metabolites with many in vitro effects towards prevention of various diseases. Recent research is oriented towards their stability during food processing, storage and bioavailability.
The 'Biochemical and biophysical characterization of natural compounds' (P4-0121) research programme was implemented in the Department of Food Science at the Biotechnical Faculty in 1999. The programme team is currently headed by Prof. Dr. Nataša Poklar Ulrih and it brings together 17 researchers from the Chair of Biochemistry and Food Chemistry.
Research programme focuses on areas such as: identification of bioactive components from food waste; in vitro models of digestion simulation of bioactive food compounds; and development of technologies to increase stability, bioavailability and activity of health-promoting compounds.
In the processing of plant raw materials, by-products are generated, so their use will contribute to sustainability. Therefore we are exploiting olive leaves (Cifá et al., 2018), hop cones and their pellets and extracts (Abram et al., 2018, Ocvirk et al., 2017, Abram et al., 2015), pomegranate peel (Miklavčič Višnjevec et al., 2017), and alien invasive knotweed (Pogačnik et al., 2016) to obtain bioactives that have important roles in maintenance of human health and wellness. Encapsulation of such bioactive compounds into different carrier materials will protect them and enhance their application to food matrices. In the past 3 years we published several articles on the encapsulation of pantothenic acid (Ota et al., 2018), propolis (Busch et al., 2017), epigallocatechin gallate (Istenič et al., 2016) and resveratrol (Balanč et al., 2015) into liposomes, which are biocompatible and biodegradable delivery systems.
Bioavailability of bioactive compounds is studied with in vitro models of the gastrointestinal tract. Reducing the amount of fats and adding natural compounds are just some of the trends in the food industry. Recently we published article on the influence of organogels with the corresponding structural and physical properties (Vallopi et al., 2018) as a possible solution to reduce saturated and trans fats in foods.
Among the notable achievements in the past years there are also articles on advanced analytical techniques to probe food component interactions (Zhang et al., 2018, Poklar Ulrih, 2017, Poklar Ulrih et al., 2015), oxidative stability (Abramovič et al., 2017, Leiva et al., 2016), and viscosity and texture properties (Poklar Ulrih et al., 2017), which will help to prepare more appealing food products.
In our research programme we are also investigating hyperthermophilic archaea. Pernisine is a thermostable protease from A. pernix that can be overexpressed by E. coli and S. rimosus, and it is active at pH from 5-10 and temperatures of 70-100 °C (Šnajder et al., 2015). Patented knowledge will allow us to develop new applications for protein hydrolysates, and for degradation of protein aggregates (Šnajder et al., 2014).